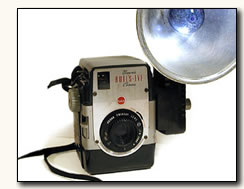 These are the vintage cameras I've collected. I buy these cameras mainly for display purposes, but I usually will try and find a camera that works, or repair it if possible to see what kind of pictures it takes. Often, they are a memento of a friend or family member who's given me another camera, or of an outing that included a visit to an out of the way antique shop.

The cameras are separated into categories:
Bakelite Cameras, Box Cameras, Folding Cameras, and everything else, which you can browse by clicking to the left. Some of the cameras have been sold since I posted the site, others are available; if you're interested, email me.